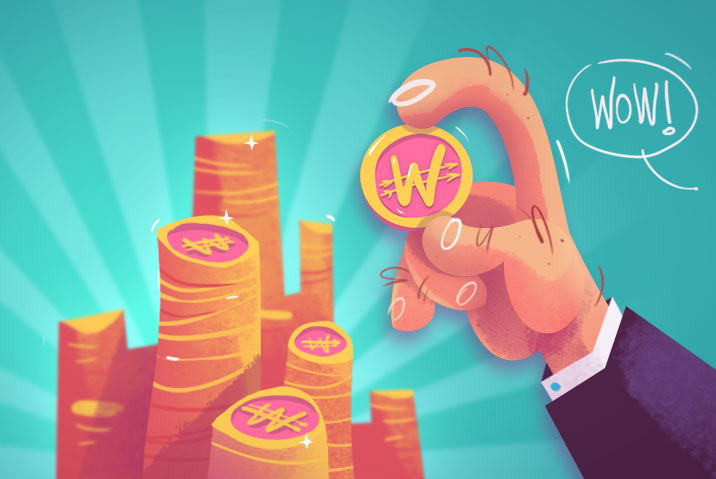 WowCoins – The Currency of the Wowism Economy
At WowApp, we share 70-80% of our net revenue with our members, who themselves can also donate their earnings to charity or cash them out. This way, WowApp supports the new economic system of Wowism, in which the majority of economic benefit is shared with the community and, in turn, each member of the community gives back and does good in the world. Through Wowism, we are trying to build a more equitable world that would put a stop to the rising trend of income inequality. As any respectable economic system, Wowism has its own currency – WowCoins. They are pegged to the US Dollar and the conversion rate of the Wowcoin is: 100 WowCoins = US$ 1.00.
Using WowApp, you earn real money from daily activities that you were doing before for free. These earnings are added to your WowApp account in the form of WowCoins. The earnings generated by Advertise Me, Lockscreen and Games show up in your account once every 24 hours, while the earnings from paid calls, WowApp Numbers purchases and Instant Earn activities appear immediately! Regarding earnings from Shop Online, you can read more details here.
When WowCoins are added to your account, they initially have an on-hold status, meaning that they become available for cashing out after 60 days. This period of time is determined by the terms established by our partners.
As there are many ways of earning (by simply chatting with friends, playing games, shopping online etc.), there are also many ways of cashing out your earnings. First of all, you have the option to either donate your earnings or use them for yourself.
If you choose to donate, there are 2,000 charities in over 110 countries available in WowApp. Just pick your favorite cause and contribute with your WowCoins. The areas that you can support include Animals, Arts and Culture, Children, Education, Health, Human Rights, Sports, Technology etc.
Another way of using your WowCoins is by cashing them out for yourself. Depending on how you find it more convenient, you can cash out to your Credit Card, PayPal account or Bank account. You can also buy WowCredit with your earnings and use it to call mobiles and landlines anywhere in the world at the lowest rates on the market. Another option is to convert your WowCoins into Mobile Credit, meaning that you can recharge your own or someone else's prepaid mobile phone number in every major network in the world.
No matter what you choose to do with your WowCoins, you will never have to pay anything in order to earn money in WowApp! WowApp is free so join us today and start earning what's rightfully yours! You can join WowApp by receiving a personal invitation from an existing WowApp user or by simply signing up with the help of one of our featured members here.