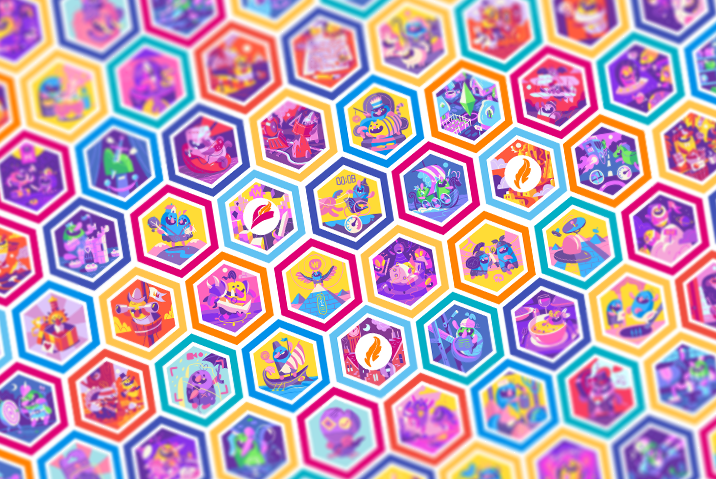 The Story Behind WowApp Awards
Enjoy a fun, colorful and exciting journey through centuries and civilizations with WowApp Awards! The actions you perform on our platform are rewarded with virtual badges of honor that show your progress with each earning method.
Whether it's a Pretty Dino, a Tangled Mummy, the Mother of Popcorn or the Paradise Forest, each Award consists of a beautifully designed image and short description. To receive Awards, all you have to do is perform the action described in each Award. For example, to get "Pretty Dino", just make sure you set up an avatar of your choosing to personalize your profile.
After unlocking an Award, you can boast about it and share it on social media. Invite your friends to join WowApp so they can #EarnShareDoGood and receive Awards too.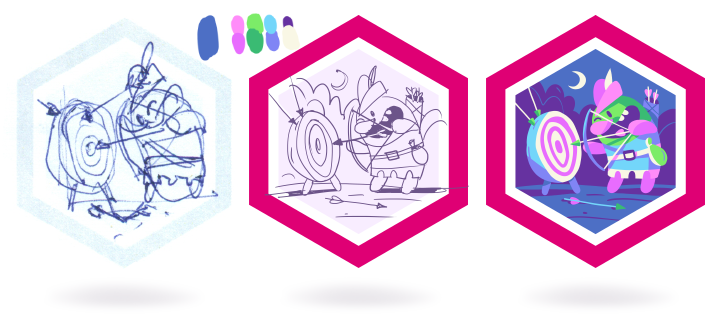 There's a total of 310 Awards available at the moment for you to unlock, grouped in 11 categories:
Get Started (10 Awards)
Watch Videos (30 Awards)
Chat & News (30 Awards)
Network (30 Awards)
Offers (30 Awards)
Shop (30 Awards)
Leaderboard (30 Awards)
Smart Slide (30 Awards)
Games (30 Awards)
Smart Web (30 Awards)
Do Good (30 Awards).
We imagined a progressive experience where you receive Awards representing a reinterpretation of characters, places and events from different time periods: Prehistory (levels 1-5), Ancient Times (levels 6-10), Dark Ages (levels 11-15), Age of Discovery (levels 16-20), Industrial Revolution (levels 21-25), Present Time & Close Future (levels 26-30).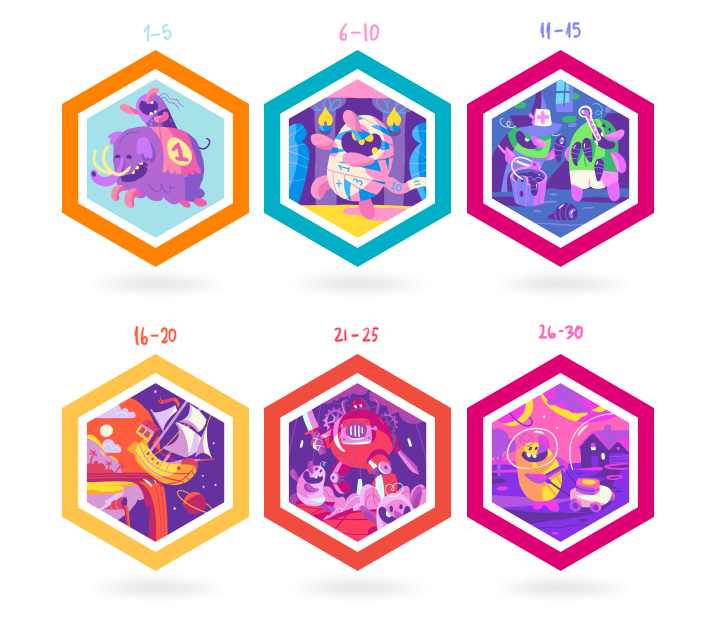 You will notice that Awards from the same time period are drawn using the same color palette:
Levels 1-5 (Prehistory) contain cold colors to reflect the content from deep past and transport you to the Ice Age.
Levels 6-10 (Ancient Times) bring yellow and blue together to evoke the sand and dust of archaeological sites depicting ancient civilizations such as the magnificent Egypt.
Levels 11-15 (Dark Ages) recall the Medieval Times through dark tones of blue and green representing the colors of dragons, witches, frogs, trolls and other fantasy creatures from fairy tales.
Levels 16-20 (Age of Discovery) combine the warm orange and yellow of sunsets and golden sands of tropical islands that are iconic to this age of exploration.
Levels 21-25 (Industrial Revolution) bring red and purple colors representing the hot metal labored to shape a glorious future.
Levels 26-30 (Present Time & Close Future) are filled with bright yellows and dark purples as a metaphor of man's light venturing in the darkness of the outer space.
We hope you are as excited about the Awards as we are here at WowApp! Reveal all the funny characters in outstanding situations, discover places from around the world and relive iconic moments in history by collecting all 310 Awards!
If you need more details or have questions about the Awards, visit our FAQ section.